You know, Russia has celebrity competition TV shows such as "Dancing with the Stars" and "Skating with the Stars", but it has been losing rating for more than a year now, people were bored of watching celebrities... well... dance or skate around. Something new was needed.
And so, something new has been now introduced to us, a show called
Bez Strakhovki
("No Safety"), which went way beyond D-w-S. On this show, the particularly daring celebs do circus acrobatics tricks! It's also in pairs, where one is a pro acrobat/gymnast, and the other - amateur celebrity.
My favorite couple, circus gymnast Darya Eremeeva, and Aleksey Voevoda, painted as The Hulk and looking awesome lol
https://www.youtube.com/watch?v=p22L7Nq3usE
Voyevoda may not be a professional acrobat or whatever. He is, however, a HUGE athlete. As a young man, he was a Judo and karate prodigy, earned a black belt and won many medals: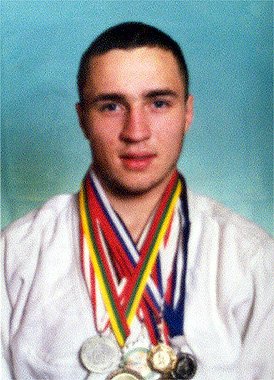 Later, went into power sports
especially distinguished himself in arm wrestling
He won the first ever Arm-Wrestling World Cup back in 2003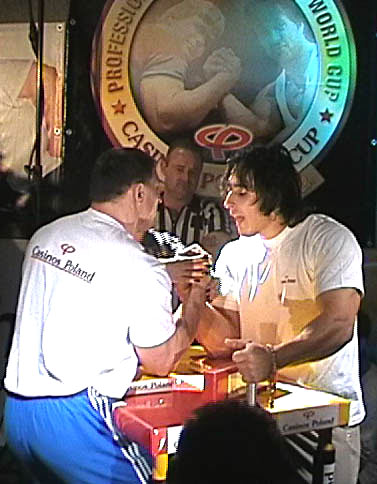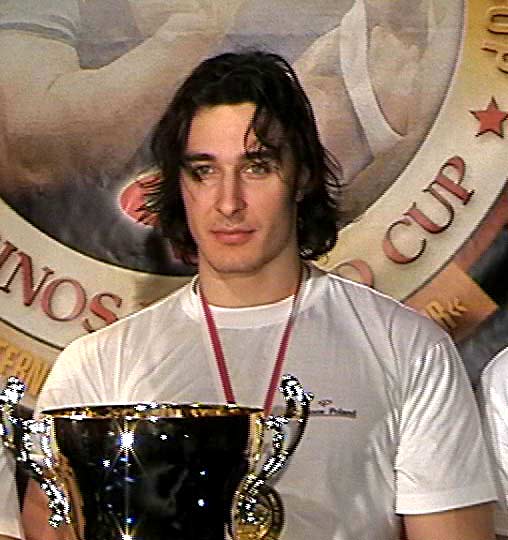 Later, he launched an equally successful career in, of all things, bobsleigh.
His team won Bronze, first ever for Russia, in Vancouver; and then Gold in Sochi
Voevoda is literally one of the strongest people on Earth. Here, for example, he lifts, with his hands, vertically, a man who weighs 95 kg:
https://www.youtube.com/watch?v=-8LiWEePZ8g
He continues to compete in arm-wrestling and weight lifting. He is considered the ultimate sportsman in Russia, the ideal all-around athlete, so far, excelled in anything he ever tried.
So, that is why they chose all these tricks for him where he has to hold Darya in the air like that, with his sheer physical power, it's no problem
Only issue is, he doesn't always KNOW his strength, according to Darya, he can really be like that Hulk sometimes, worrying he may drop her, squeeze too hard, and then she has bruises after...
One I honestly did not like, and am not only one who felt that way, was Irina Saltykova
https://www.youtube.com/watch?v=BIjMg05Diaw
She is a singer, actress, was pretty much a sex icon between about 1998 and 2003 or or 4
(scene from a movie in 2001 or 2), but then her career and her life kind of went down the drain, I believe she lost custody of her daughter to her ex-husband, began to drink and use drugs and date a gangster who fed this habit of hers
and who also beat her, reportedly (well, what do you expect from a mafia guy, they are violent people...)
Now, she is always sexing up her performances, showing herself off, that she is BACK, and that she still got something... Maybe some men liked it, I don't know. I did not. Neither did the jury, gave her mostly 8s out of 10, where majority of others all got 10s, or, at least, 9s.
It is a dangerous show... Back in January, actress Kristina Asmus, for example, very seriously injured her leg doing a flip:
https://www.youtube.com/watch?v=vut7WCmm_QU
Others have since also dropped out with injuries.
Roza Syabitova, an actress and TV host and the oldest woman participating in this
also broke her leg while training for a performance
Actor and singer Dmitry Pevtsov, who has done some amazing tricks
has reportedly threatened to leave the show too, said they were asked to do dangerous stunts, and yet there wasn't even a doctor available on site at the studio! Bad organization, basically. Apparently, they now have stationed a full time professional medical team on the site. Would not want Pevtsov to go, for sure, he is one of the biggest, most famous stars in the project...
Definitely not a competition for just everyone, I will say that...